2019 parksiders luncheon - A GREAT DAY !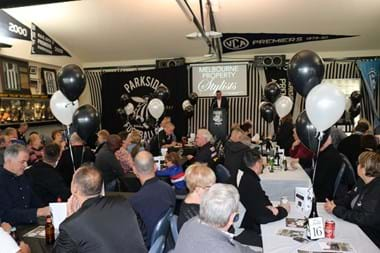 Over 100 people joined together to enjoy the Inaugrual Parksiders Luncheon welcoming Life Members, Parksider Members, Past Players & Supporters who all shared in this special event. It was a showcase of the great history of Parkside Football Club and everything that we enjoy about our great club.

A fantastic day was enjoyed by all and we thank everyone who attended and made the great function the success we all hoped it would be.

To everyone that was apart of the event we thank-you as we build towards another great Past Players Day later in the year and we hope that you will all join us again at our 2nd Parksiders Luncheon in Season 2019.
mark considine awarded life membership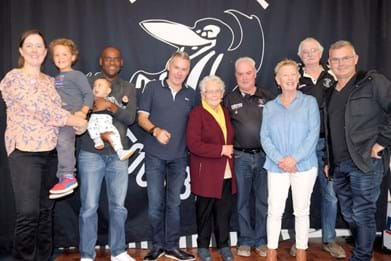 At the 2019 Parksiders Luncheon hosted on the 4th of May, Mark Considine was awarded Life Membership of the club. After 45 years of service as a player, volunteer, statistican and many other roles within the club it was a proud moment for Mark to be awarded this prestigous honour.
Surrounded by his family at the event Mark commented that it was an honour to be become a Life Member of the club a place is holds so dear.
A fantastic achievement for a life time of service and the entire Parkside Football Club community congratulates Mark on his induction into the Life Membership of our great club.
Well done Mark!
JOIN US AT THE 2019 PARKSIDE LADIES DAY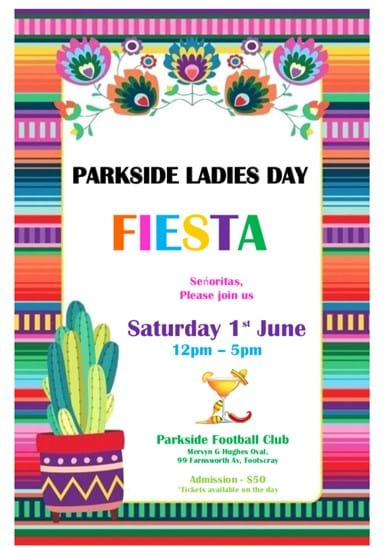 Come along and join all the fun of the 2019 Ladies Day.
With a Mexican Theme this year it promises to be a great day on the Calander and we hope all Parkside Ladies can be apart of this great day.

Saturday 1st of June

12noon to 5pm


$50.00 per person
Tickets available on the day or please feel free see Casey Wren or Shelby Crampton for more details
CLICK HERE for your Invitation
get your ticket to win the magpies nest!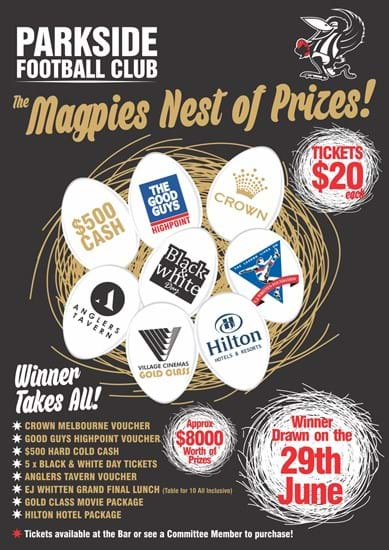 Winner TAKES ALL !
Buy a ticket and put yourself in the running to take the ENTIRE NEST OF PRIZES home!!!!
Prizes Include:

CROWN MELBOURNE VOUCHER
THE GOOD GUYS HIGHPOINT VOUCHER
VILLAGE GOLD CLASS TICKETS
$ 500 CASH
Table of 10 at the EJ WHITTEN GRAND FINAL LUNCH 2019
HILTON HOTEL ACCOMODATION PACKAGE
5 BLACK & WHITE DAY TICKETS
Tickets Available at the club Thursday Nights and Home Games

Any queries please email the club at parksidemagpiesfc@outlook.com

PARKISDERS DAY - SATURDAY 29TH OF JUNE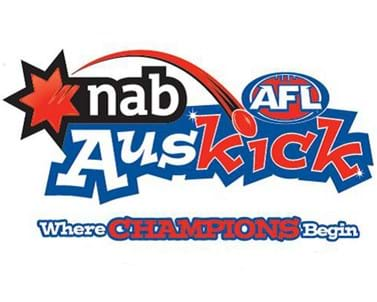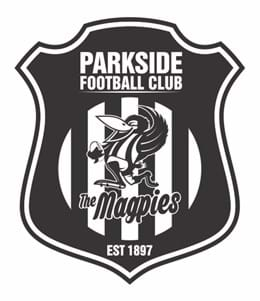 ROUND 1
Saturday 6th April
Parkside v Newport
( Away )
ROUND 2
Saturday 13th April
Parkside v North Footscray
( Home )

ROUND 3
Saturday 27th April
Parkside v West Footscray
( Away )

ROUND 4
Saturday 4th May
Parkside v Wyndhamvale
( Home )

ROUND 5
Saturday 11th May
Parkside v Yarraville Seddon
( Away )
ROUND 6
Saturday 25th May
Parkside v Point Cook Centrals
( Away )
---
---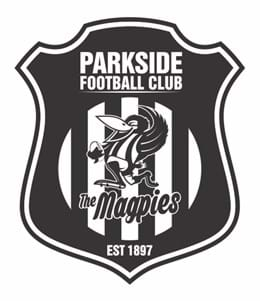 ROUND 7
1st June
Parkside v Manor Lakes
( Home )
ROUND 8
Saturday 15th June
Parkside v Newport
( Home )

ROUND 9
Saturday 22nd June
Parkside v North Footscray
( Away )
ROUND 10
Saturday 29th June
Parkside v West Footscray
( Home )
ROUND 11
Saturday 6th July
Parkside v Wyndhamvale
( Away )
ROUND 12
Saturday 13th July
Parkside v Yarraville Seddon
( Home )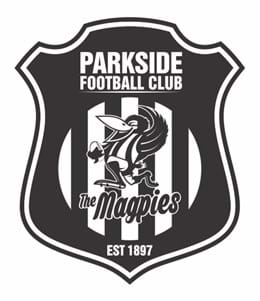 ROUND 13
Saturday 20th July
Parkside v Point Cook Centrals
( Home )

ROUND 14
Saturday 27th July
Parkside v Manor Lakes
(Away )
ROUND 15
Saturday 3rd August
Parkside v Newport
( Home )

ROUND 16
Saturday 10th August
Parkside v North Footscray
( Away )

ROUND 17
Saturday 17th August
Parkside v West Footscray
( Home )

ROUND 18
Saturday 24th August
Parkside v Wyndhamvale
( Away )